Allison Hsiao 。/ XX ________ 。
平面設計師 @ LA, USA / Taipei, Taiwan 。
REDCAT | Alexandra Cuesta: Camera Notes (Part One & Two) / Notas de Cámara (Parte Uno & Dos)

2019
Known for her experimental, precise and hypnotic portraits of places and people shot in 16mm (Recordando El Ayer, Beirut 2.14.05, Piensa En Mí, Despedida, Territorio), Alexandra Cuesta expands her cinematic vocabulary into an "intimate ethnography," shot over three years in upstate New York, Los Angeles, Japan, and Chile. Setting up the process of regularly shooting a "film gesture" almost daily, Camera Notes records "fragments of the everyday intimate."
20 x 28 in
網版印刷(CMYK 四色印刷)
共同設計 | Ethan Östling
攝影 | Allison Hsiao
模特 | Boyoon Choi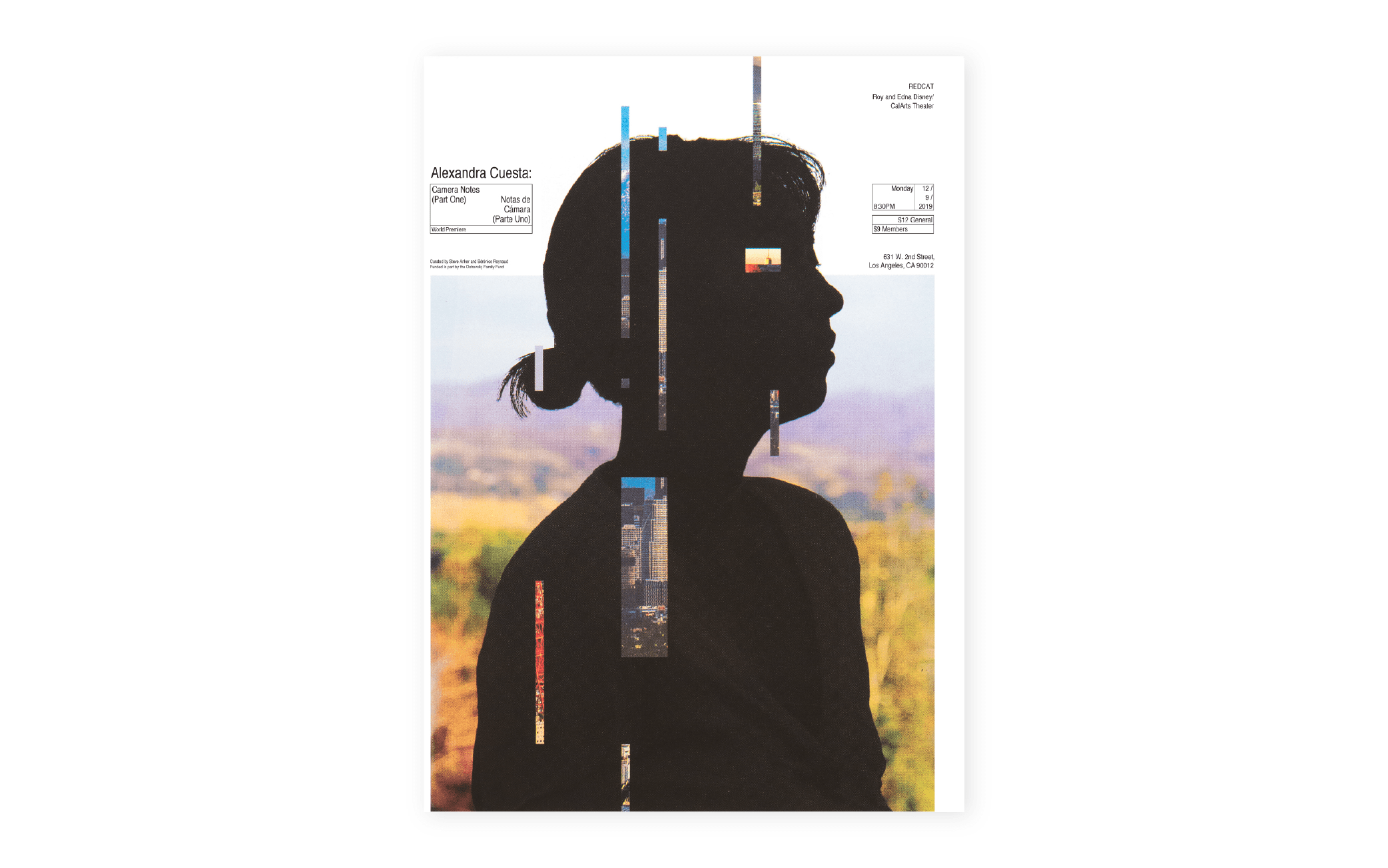 REDCAT | Inside Out & Upside Down: Posters from CalArts 1970–2019

2019
CalArts has a long and rich history of graphic designers producing experimental posters for on-campus visiting artists, exhibitions, music, theater, and dance performances (as well as for REDCAT and Machine Project). This exhibition comprises posters pulled from the CalArts poster archive (posters.calarts.edu), most of which are silkscreen prints produced by designers in a limited run.
20 x 28 in
網版印刷(CMYK 四色印刷)
共同設計 | Alex Cerutti

靈感來自於美國藝術設計師 Ed Fella 的演講,描繪出在2033年的自己。當我35歲。
11 x 17in
色鉛筆素描

REDCAT | Calarts Film / Video Showcase

2020
CalArts School of Film/Video presents a juried selection of special screenings that feature new short and feature-length films by students in its four programs—a culmination of hard work and dedication throughout the year.
28 x 15.75 in (16:9)
網版印刷(CMYK 四色印刷)